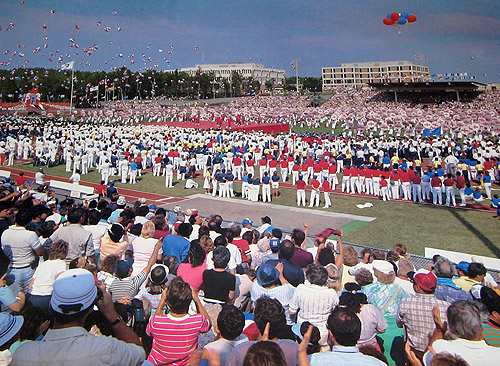 1985 Canada Summer Games Opening - Saint John, NB
The Saint John Jeux Canada Games Foundation was established in 1986 after the conclusion of the 1985 Canada Summer Games in Saint John. This event was deemed to be one of the most successful Canada Games ever and resulted in an operating surplus.
The City of Saint John and the Saint John 1985 Canada Summer Games Society Inc. chose to create this foundation as a Canadian Amateur Athletic Association (A Charitable Organization) which would receive the surplus funds for the general benefit and development of amateur athletics in Canada.
The objective of the Saint John Jeux Canada Games Foundation, Inc. is to assist in the development of amateur sport by making financial contributions to athletes, coaches, sport organizations, and educational institutions to assist them in the pursuit of excellence in sport, so that Canada, and New Brunswick in particular, will be well represented at the national and international level. Special emphasis will be given to developing the sports of the Canada Summer and Winter Games.
Objects of the foundation*:
To promote the training and development of amateur athletes in Saint John, in New Brunswick, and in Canada through the provision of funds to athletes, amateur athletic associations, sports governing bodies, universities and others involved in the training and development of amateur athletes to be used for education, training, instruction or other similar programs for the development of amateur athletes where funding is not otherwise available from government, university or private sources, or to provide funds to enhance existing or future government, university or privately sponsored programs;
*(summarized here from the bylaws)